Strategic Priority
Building digital competencies, forging global partnerships, and using digital metrics to drive conversion
Capitals Impacted


Key Focus Areas
Building dedicated digital teams
Ramping up e-commerce
Leveraging global partnerships
Strengthening our digital ecosystem
Investing in technology and infrastructure
Crafting consumer-generated content
Experimenting and improving reach
Value created
We are increasingly integrating digital capabilities with different aspects of our business - how we manufacture, go-to-market and engage with our consumers. Through these efforts, we are building stronger Social & Relationship Capital by way of partnerships and more meaningful consumer connect. In the last year, we clocked a 53 per cent increase in digital reach.
We are also investing in building internal capabilities and Intellectual Capital through focused talent, trainings and infrastructure.
53%

increase in digital reach
Cost per engagement

2x

lower than fiscal year 2017-18

32%

increase in competency levels in search engine marketing and measurement

70%

of brand websites redesigned for improved consumer user experience, organic traffic, and conversion
Average time spent on each brand website improved significantly
Our Global Digi Cell brings together digital marketers from across geographies to share ideas and learning. In addition to this, we partner with other internal and external teams on digital priorities. Our online education tie-up with Circus Street resulted in a 32 per cent increase in competency levels in key areas of search engine marketing and measurement.
We are building and leveraging global partnerships (such as Google and Shopalyst) to accelerate learning and experimentation. Our strategic partnership with Facebook helps tap into best practices and beta trials of their crucial platforms. In September 2018, our core team participated in deep immersive sessions at Google and Facebook headquarters (at Mountain View and Palo Alto, respectively), bringing us closer to our key partners and revealing crucial consumer insights. They also attended sessions with a variety of consumer-facing start-ups to build an understanding of digital-first thinking.
Seventy per cent of our brand websites have been redesigned for improved consumer user experience, organic traffic, and conversion. The average time spent on each site has improved significantly. The bounce rate has reduced, primarily due to more engaging content and deeper linking of articles to drive prolonged engagement.
Launched last year, the Black Hair Hub is an unbranded, consumer website dedicated to black hair. The site includes articles, images, and how-to videos to help and inspire African women across the globe. It has been a big success, with a run rate of 80,000 visits per month and a 21 per cent revisit rate.
RAMPING UP
E-COMMERCE
We have set up an e-commerce business for India with separate P&L accountability. This structure will allow us to be more agile and deliver the consumer focus required to win. Specifically, we are targeting growth from e-commerce- focused product innovation and digital native brands, in addition to our current portfolio. To enable this, we have a dedicated digital team, the 'Ecom Cell', a team of in-country e-commerce specialists, charged with rapidly growing online sales.
INVESTING IN
TECHNOLOGY AND
INFRASTRUCTURE
At the Black Box, a physical digital command centre at our headquarters in Mumbai, we monitor live digital activity across our brands. It helps evaluate brand conversations across Twitter, Instagram, and Facebook. We also use it to respond to issues and gather consumer insights to drive campaigns and for new product development.
CRAFTING
CONSUMER-
GENERATED
CONTENT
Peer-to-peer product recommendation is the holy grail of marketing ROI. Social media allows us to tap into this at scale. We have been working with influencers to get our products in front of our target demographic on the platforms where they spend time (Instagram, Facebook and YouTube). The consumer content that is generated is authentic and believable as well as in a tone and language that our consumers connect with. We continue to ramp this up and will be soon launching our internal production studio – The Light Box – which will enable us to engage influencers, celebrities and consumers alike to generate cost-effective, engaging and on-brand content.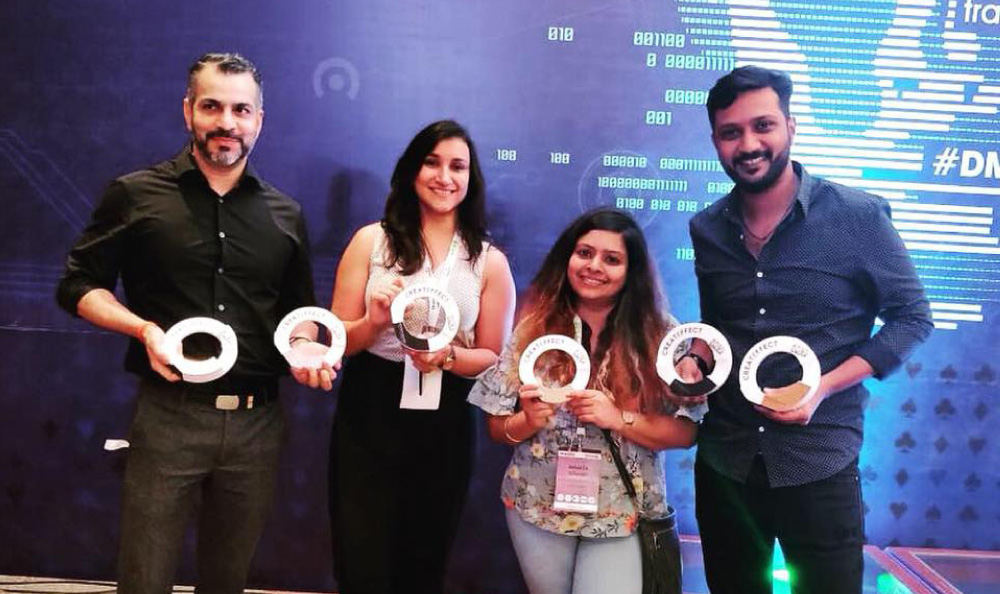 EXPERIMENTING
AND IMPROVING
REACH
Improved targeting and content has resulted in a 53 per cent increase in digital reach. We have also started collecting first-party data to ensure further reach through a cost-effective and targeted approach. Furthermore, cost per engagement is 2× lower than that in fiscal year 2017-18. Our industry-leading social click-through rate (CTR) has improved due to a focus on consumer insight driven creatives and an increase in the use of consumer- generated content.