Key Focus Areas
Enhancing our go-to-market strategy
Laying the foundation for future growth priorities
Ramping up e-commerce
Leveraging technology and data analytics
Fostering win-win partnerships
Value created
Our agile go-to-market approach, tailored to specific geographic contexts, is the backbone of our business. By leveraging technology and analytics, innovating for local contexts and building more agility in our supply chain, we are able to serve our consumers with greater precision and purpose. We will continue to invest in enhancing our Intellectual Capital, making our Manufactured Capital more agile, and creating joint value with our partners to maximise Social and Relationship Capital. This in turn, will translate into stronger Financial Capital value.
Strong direct distribution reach in India of

1.3 million

outlets
Expanded distribution reach in Indian rural markets to over

5.8 million outlets

Rural growth over

2x

of urban traditional trade
Research shows that emerging markets will power global consumption and growth over the next couple of decades. This is a major reason why we have centred our growth strategy on targeting these markets and the emergent consuming class in them. As incomes rise, purchasing power improves and these markets mature; new distribution systems are enabling greater reach. To be able to leverage this, we are ramping up our go-to-market strategy and reach to go deeper and improve penetration.
In India, we strengthened direct distribution reach to 1.3 million outlets. We are driving availability through shopper insight-based visibility programmes for top outlets and restructured coverage norms to improve focus and service.
In Indonesia, we continued to strengthen our approach by simplifiying our channel model, driving same store growths, launching a loyalty programme 'Sahabat Godrej' to increase wholesale efficiency and indirect coverage, and using coverage expansion pilots in Sumatera to test our hypothesis.
We have been ramping up our go-to-market efforts across Africa. In West Africa, we are expanding coverage of satellite markets beyond the current markets that Darling serves directly. In addition, the team has started expanding coverage across North and West Nigeria, which were previously underserved by Darling. In Kenya, we are increasing direct coverage by on-boarding new wholesalers. This has shown positive results in up-country areas. In South Africa, the team continues to expand numeric and weighted distribution across general trade and modern trade.
1. Rural One
In India, we expanded our distribution reach in rural markets by over 1,00,000 outlets. Our village expansion programme, coupled with 'Pragati', the feeder wholesale programme, enabled overall reach to increase to over 5.8 million outlets (as measured by AC Nielsen). Specific rural demand- influencing programmes in identified states and distribution expansion efforts resulted in rural growth being over 2x of that in urban traditional trade.
2. Middle India
We are building a focus on Middle India (cities with a population between 1,00,000 and 10,00,000), a critical cluster for driving higher growth. We launched segmented go-to-market initiatives and close to doubled our differentiated sales approach to cover over 55,000 outlets. We also ramped up frontend sales strength by over 1.5× in this cluster.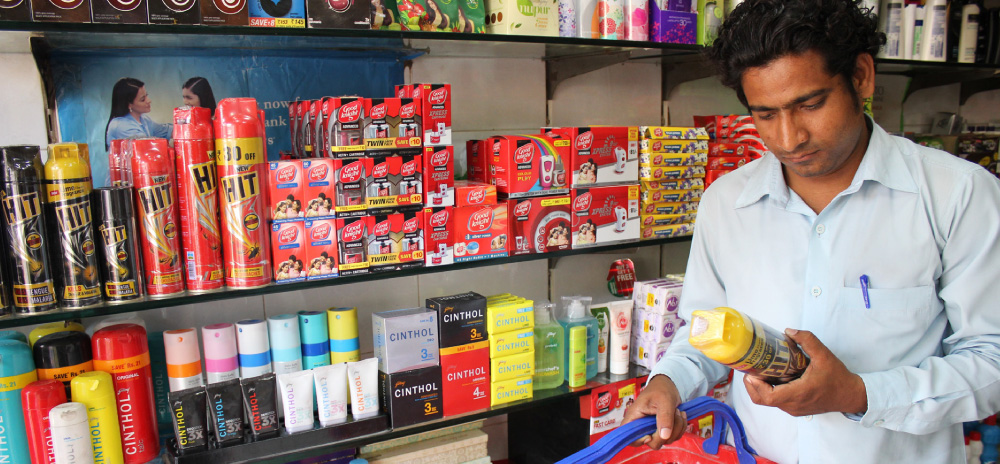 RAMPING UP
E-COMMERCE
In line with our plans for establishing a strong e-commerce presence in India, we have set up an e-commerce business with separate P&L accountability. The aim is to build agility and deliver the consumer focus required to win in this fast-evolving space. We are targeting growth to come from e-commerce-focused product innovation and digital native brands, in addition to our current portfolio.
LEVERAGING
TECHNOLOGY &
ANALYTICS
We are using predictive analytics for better decision-making across different initiatives. In India, we are optimising trade spends for better returns through trade spend management tools. Through data analytics, we are enabling targeted smaller cluster-localised planning. Our upgraded hand-held terminals and predictive suggestions guide salespeople in markets. We are trying to further optimise the time spent and delivery routes through GPS-enabled maps. As part of experiments, we are piloting artificial intelligence and behavioural science-enabled capability building for frontline sales people.
In Africa, leveraging hand-held devices for our sales team members and merchandisers has helped expand coverage and improve brand visibility across the subcontinent. In Kenya, we introduced sales bots for automated order booking. In Nigeria, we are using analytics to improve cross-selling, especially for must stock lists and up-selling basis previous buying patterns. Across the USA, electronic data interchange (EDI) helps improve connectivity with large retailers such as Walmart and Target.
Through 'SALES MOR', our analytics portal in Indonesia, we are helping sales team members track, review, and optimise productivity and other key sales KPIs.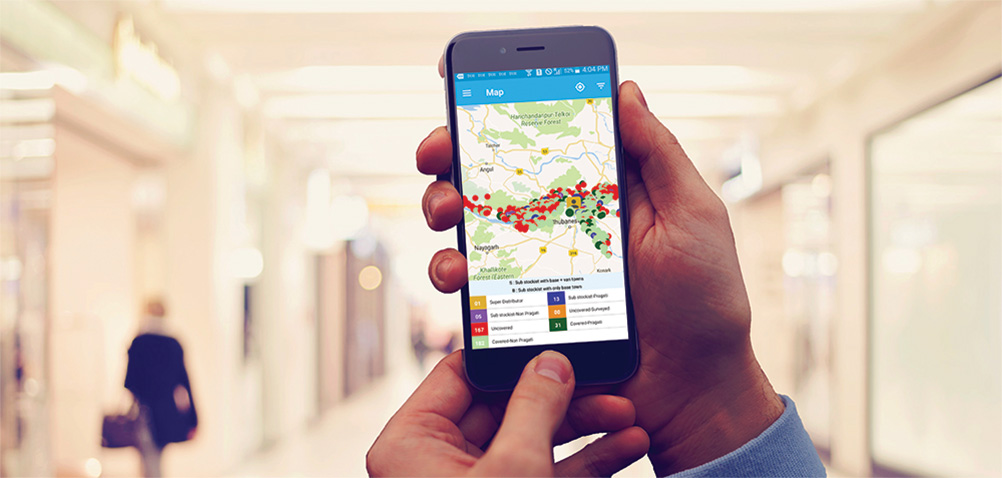 FOSTERING WIN-WIN
PARTNERSHIPS
In India, we are enhancing engagement through customised partner engagement programmes to build stronger connect and drive common goals across the chain. We expanded 'Unnati' across key markets in urban India. Through this programme, we are building direct connection with our local area sales leadership teams. We host regular meetings to share feedback and updates. This, in turn, leads to more targeted planning and higher returns for them. The Net Promoter Score (NPS) survey gathers feedback to factor into our plans.
In Indonesia, our regional distributor network, comprising over 100 distributors, contributes approximately 40 per cent of total business. As an introductory step to better leverage these partnerships, we conducted extensive distributor management and ROI trainings for sales people. We also introduced a set of other initiatives, such as targeted incentives linked to business priorities and distributor financing. Our billing software boosts visibility and connectivity and simplified claim settlements.
Salons are key partners for us in Africa. Besides initiating training programmes for stylists, which helps them become self- employed, we have also introduced Salon connect programmes across markets. We conduct regular NPS surveys with trade partners in smaller markets who help distribute a range of GCPL products.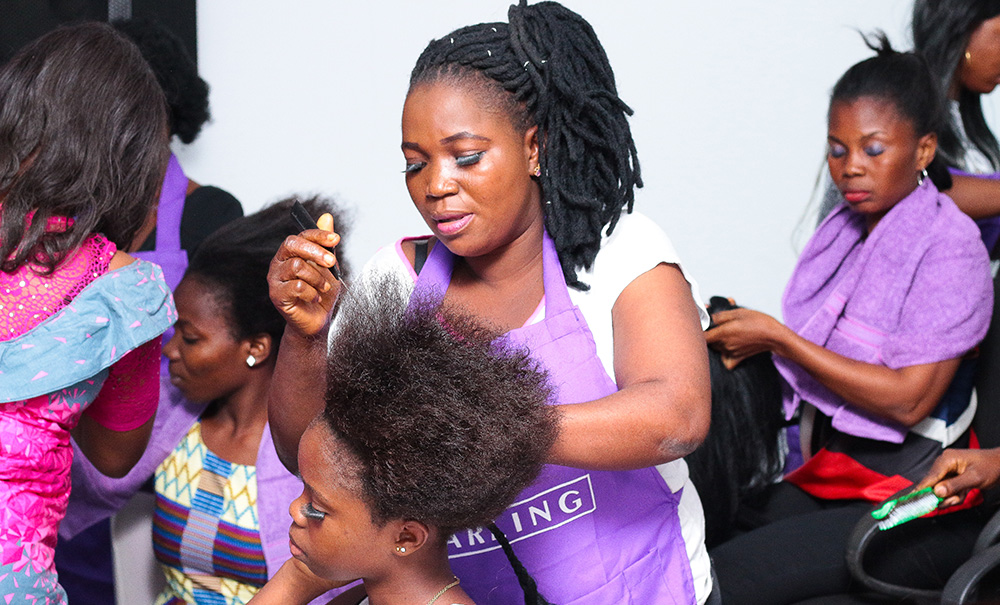 Partnering with hair salons in Nigeria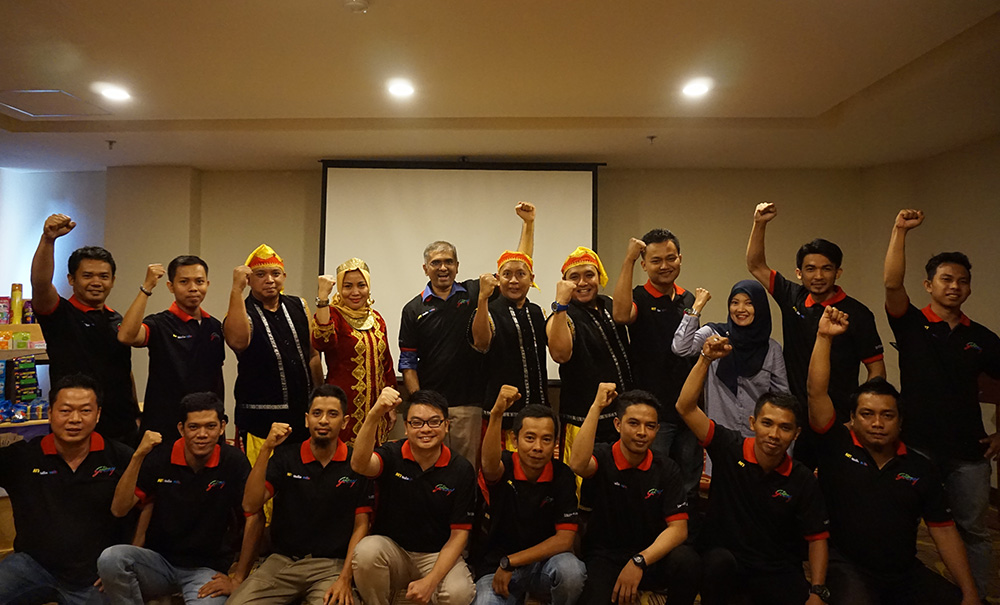 Our Godrej Indonesia Sales team at a workshop in Palembang